SMPS Marketing specializes in building sales processes for organizations and provides a full array of services, including consultation, guidance and organizational sales management from A to Z. The company has vast experience in building sales processes for different industry sectors, and works according to meticulous work methodologies, starting at clients' needs assessment, through offering focused solutions, and all the way to substantially increasing profitability.
What is a Sales Processes Building service?
A sales process begins from the very moment in which the potential client is exposed to the service or products, continues through lead management, a phone call, repeated communication as necessary until closing the deal. The sales process may continue even after the deal is closed. For instance, newsletters help us maintain a steady relationship with our client, and promote re-sells, or up-sells, sometimes, we may even offer our client complementary services, cross-sell.
Exposing clients to our service or product can be done through advertising, potential inbound client calls, or even outbound initiated sales calls. All these stages have to be structured, so that the process is sufficiently leveraged, and no deal is lost.
What does SMPS Marketing's service include?
The service includes building meticulous work methods according to the product or service character and the organization's values, to optimize the sales process and increase profitability. As part of its sales processes building, the company provides business development that entails the following steps: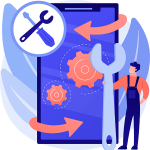 First Step
- Accompanying through professional staff hiring and all the way to establishing a full staff.
- Building work processes and company procedures.
- Accompanying in locating and contacting all relevant suppliers.
- Accompanying in building and automating periodical reports for management and investors.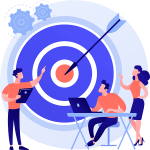 Strategy
- Analyzing the product, relevant markets, and distilling key messages and target audiences.
- Choosing languages and countries of operation.
- Building the goals of the advertisement and setting measurable goals for the employees and management.
- Managing media budgets, assigning it to products, media and appropriate employees.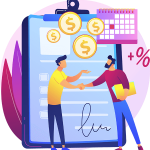 Ongoing Consultation
- Monthly management meeting – overviewing data, building goals and tasks for the upcoming month.
- Monthly advertisement strategy meeting, scanning the data and tailoring the strategy for the upcoming month.
Have to increase your organization's sales?
Let's do it together. Professional and efficient!
SMPS Marketing offers a complete array of services, including lead matching or quality PPC tailored lead campaign management, allowing you to enjoy full coverage for promoting your organization's profitability. The leads are provided from different sources, on a variety of fields and types (hot or cold), at customer's selection.
every sale has five basic obstacles: no need, no money, no hurry, no desire, no trust."